96% of all doors sold are made out of aluminum, wood, or vinyl. If these are the only types of doors you're familiar with, you've probably never heard of lockboxes. That's because lockboxes are unique to steel windows and doors.
Although we're discussing doors, this category is most commonly known as "Steel Windows". To give you some perspective, let's talk about the history.
The History of Steel Windows and Their Locks
Steel windows came about in the early to mid-19th century with the development of hot-rolling steel bars in a continuous process. The "L", "T" and "Z" shapes that are about ⅛" thick make any combination of in-swing or out-swing window possible.  Steel windows were the first metal windows.
Locking of steel windows was simple. You were always on the inside of the window when you unlocked and opened. Eventually locking the window to complete the cycle kept you on the interior as well. You NEVER allowed operation of the window from the outside. That would be crazy.
What works well for windows doesn't work very well for doors. There is a small category of doors called terrace doors on the balconies of tall buildings. In these doors the trip ALWAYS begins and ends on the inside where window-like locking works. This doesn't hold true on the larger category of doors as we know them.
Doors Need to Be Operated from Both the Inside AND Outside
If you want to turn a window into a door, you need to have a lock with handles on both sides.  This means that some kind of shaft has to pass through the lock that operates it and connects both handles. In a section that is only ⅛" thick, there is no room. Steel window sections are NOT tubular like aluminum and vinyl ones nor do they have the mass required for wooden ones.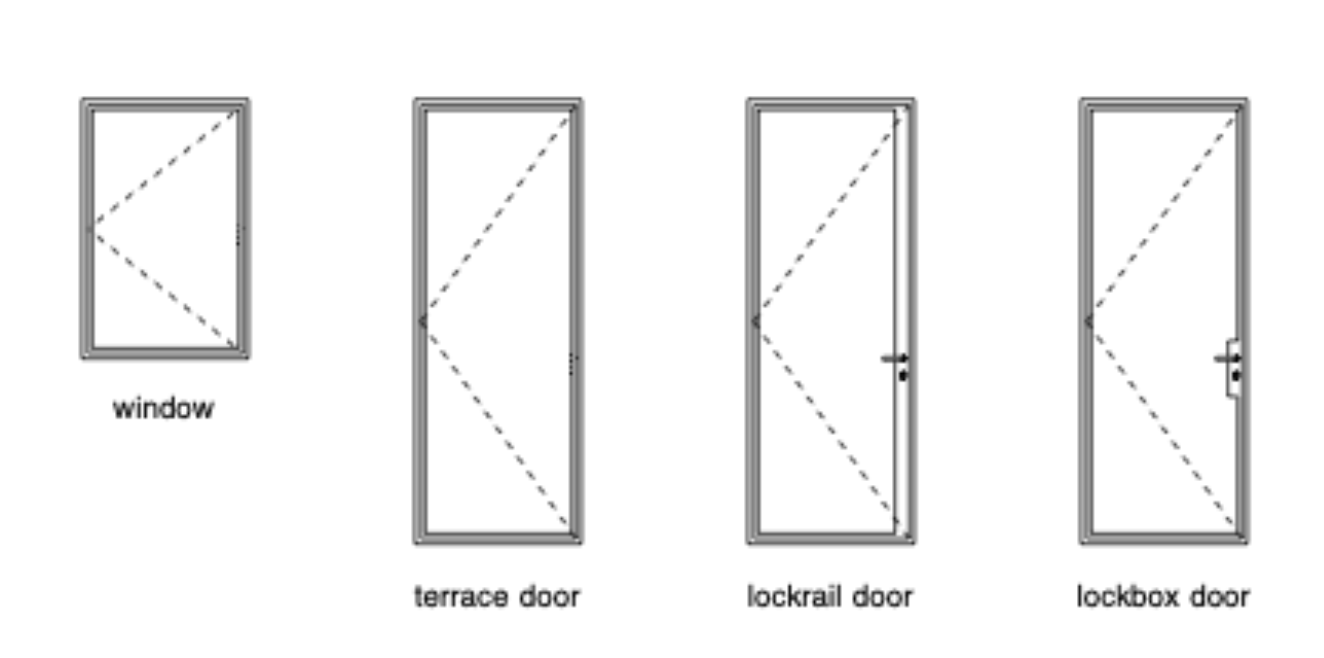 This means that in order to work, steel windows need to have the lock jamb (that houses the lock assembly) to be much fatter than the native sections.  In order to make this work an additional bar is added. About 2" away from the lock jamb within the glass area, creates the needed cavity to house the lock with the requisite levers.
Now the ultra-thin and desirable steel window turned into a door looks lopsided with a big, fat lockrail.  Woodworkers identify horizontal members that make up door sashes as rails and vertical members as stiles. BUT, I prefer the sound of "lockrail" to "lockstile".
The need for the fatter jamb only occurs in the one-foot height of the jamb that houses the lock and handles, not the entire height.  Hence the creation of the "lockbox" as a 2" wide by 12" height protrusion into the glass area to house the lock assembly.
But, What does this do for me?
Lockboxes allow steel doors to remain elegantly and universally thin. Everywhere, except for the lock/lever area. That needs to be thicker.  Levers on doors create an invasion into the glass area. So drawing attention to the area is no big deal.
In old steel doors, lockboxes extended in height between horizontal muntins. Muntins or grids were the normal condition of old steel windows based on glass size availability so this was easy to accommodate.
Modern steel doors are often single glass panels that use their thinness to create massive glass areas with almost invisible steel frames surrounding them.  Of course, the glass is also double or triple insulated glass in modern times. The introduction of the lockbox is not just a metal hoop to jump through, but the glass now needs to be notched to flow around the lockbox area.  This is an expensive complication. Progress has its associated costs.
Muntin systems in modern steel windows and doors like 2Fold® Doors are most often 3-part simulated divided lite muntins.  
A steel bar on the exterior,
Accoya® wood on the interior and
A spacer between the glass creates a ¾" wide profile that is not physically possible with a true divided lite muntin and maintain thermal improvement.
This means that the lockbox to meet the muntins trick to eliminate notched glass is not possible.
2Fold® offers both Lockrail and Lockbox design in all of its doors. The muntin systems that engage them when used, look better than the original steel windows converted into doors.
I'd love to show you more tricks that we have developed to make your vision of narrow profile, steel windows and doors work for you.